College Ministry (C4)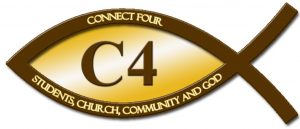 UPC has a thriving College Ministry called C4.  C4 stands for Connect Four, Student, Church, Community & God.  Our mission with C4 is to help kids and a positive church experience during their college years and to help them learn more about and to experience God's love.
During the Semesters, C4 offers a midweek home cooked meal and a contemporary worship service on Wednesday nights beginning at 7 pm.  Many C4 participants have shared that this is an oasis in their weeks!  It is a great time to be together and to be fed both physically and spiritually!
C4 also takes a Winter break mission trip to New Orleans.  This trip has quickly become the high point of the C4 year.  On this trip participants experience the unique culture of New Orleans, enjoy some amazing food and have the opportunity to give back as they help build a home for someone from the area.  It is not only a transformational experience for the group but also for each individual as well.  Learn more about the Mission Trip.
To learn more about C4, click here.
C4 Seeking Campus Ministry Intern
Ready to begin your Wild West Adventure in Wyoming?
 United Presbyterian Church (UPC) in Laramie, Wyoming seeks a full time Campus Ministry Intern from Aug 1, 2016-June 30, 2017. Room and board provided in addition to a $1000/month stipend. For more information, please contact 307-742-2061 or laramieupc@gmail.com
To learn more  click