College Ministry (C4)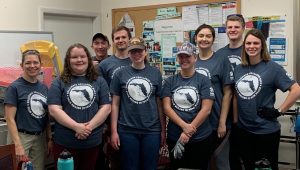 UPC has a thriving College Ministry called C4. C4 stands for Connect Four, College, Church, Community & Christ. Our mission with C4 is to help kids and a positive church experience during their college years and to help them learn more about and to experience God's love.
UPC believes that one of the greatest opportunities that we have to make a difference is right outside our doors. At UPC we seek to faithfully serve the students of the University of Wyoming and WyoTech.
During the Semesters, C4 offers a weekly meal and fellowship on Thursday nights beginning at 6 pm. Many C4 participants have shared that this is an oasis in their weeks! It is a great time to be together and to be fed both physically and spiritually!
We also take a week long Winter Break Service Trip. This mission trip experience has truly proven to be the most important part of our ministry. Through serving others, our group grows in their faith and in their relationships with one another. It is always a high point of our year!
For upcoming C4 events visit the church Calendar.